Easy to Use Client Software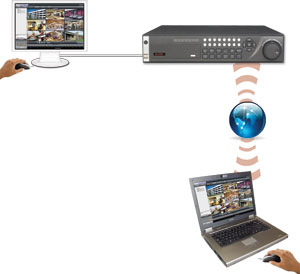 The CCTV Window software is easy to use with its intuitive and friendly layout.
Supplied free with the DVR it enables users to connect to the dvr9K over a LAN (local area network) or remotely over the Internet.
Users can see live images, playback recorded ones even control PTZ cameras or switch on lights! The dvr9K may be installed in a "safe location" for users to access the DVR menus or watch real-time images solely via a networked PC. Password protection allows complete control of user rights.
eMaps
eMaps can be embedded in to the superb CCTC Window software to enable the user an easy way to select and see images from a camera in simple & intuitive graphical user interface.
Think of the eMap as a building schematic or pictorial representation of the site overlaid with the CCTV camera locations.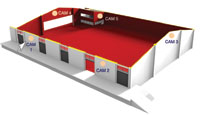 Using the free Client Software (locally or remotely) and a mouse you can click on a camera enabling live images from it to be displayed, if it's a PTZ camera you could also control its movement.
You can have exterior eMaps, interior eMaps overall site eMaps even individual room eMaps! This ultra flexible approach makes monitoring even the largest CCTV site effortless.
Click on links below to view details on each feature: