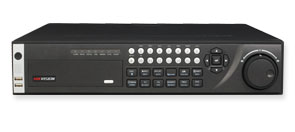 The DVR9K is a revolutionary DVR allowing you to control a combination of analogue and IP cameras.
It's features are fully configurable via the on-screen display and client software. Allowing you to configure Alarms, PTZ control, logging of events, user accounts and even disk management.
Features
Real Time D1 Recording on Every Channel

The ability to record real time sound and vision continuously puts the dvr9K in a league of its own when combined with its other innovative features.

Remote Monitoring

From anywhere in the world, you can see live or recorded images from the dvr9K in D1 high resolution. you can even hear sound too!

Multi-Channel Playback

When an incident occurs you want to find out what happened when as soon as soon as possible. Unlike inferior Digital Video Recorders that allow one or two channel playback, the dvr9K can be set to play back all channels simultaneously.

Email Notification

When an alarm event is triggered the dvr9K can be configured to send a series of e-mails to a chosen e-mail address.

Video Motion Detection (VMD)

VMD is built into the dvr9K further extending its recording time by recording only events that happen.

Live Images on your Mobile!

Using the latest Smart phones, you can even view a live video transmission from your CCTV cameras.
Alarm Notification

When an event occurs by VMD or any other alarm input, the dvr9K can be configured to send a pop-up alert to a user's networked PC either locally or remotely.

Control Remote Devices

Using the remote control relays with in the client software, you can connect to the dvr9K via a PC or laptop and switch up to 4 devices on or off. When used with IP cameras, the DVR9K can trigger a relay for each one - up to a total of 16!

Unsurpassed Hard Drive Management

With up to 16 Terabytes of internal hard drive storage possible and the very latest H264 compression technology, the dvr9k provides the perfect CCTV data storage solution for many businesses.

Easy to Use Client Software

The CCTV Window software is easy to use with its intuitive and friendly layout.

2 Way Talkback

Warn off intruders as soon as they are detected, using the 2-way Talkback feature.
Click on links below to view details on each feature: