Video Motion Detection & Alarm Notification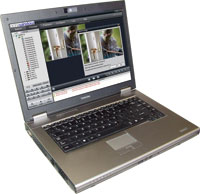 VMD built in to the dvr9K means it's easy to further extend the record time of this superb DVR by recording event only activations. The smart electronics can also capture video before motion is detected in its buffer system so you can see what happened immediately prior to the detection of movement.
The really clever stuff though is the Alarm Notification.
When an event occurs by VMD or any other alarm input, the dvr9K can be configured to send a pop-up alert to a user's networked PC either locally or remotely.
Great for remote monitoring of sites.
The IP Alarm pops up on the PC when an alarm is triggered.
Click on links below to view details on each feature: